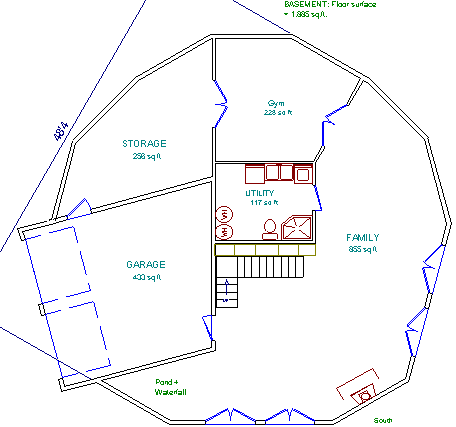 The floor of the finished area is stamped and colored concrete.
The gas stove is directed vented to the outside.
The stairs are open, but I want a toe kick at the bottom of where the riser is rather than a full riser. A view of the basement using 3D shows the bookcase, stairs and the corner where the pond and waterfall will go.
The utility room will have all the mechanicals for the house, plumbing, gas, electricity, whole house vacuum, clothes shoot from the kitchen and the upstairs bathroom, and any future heating or air-conditioning that might be installed. It has direct access up the stack via a built in ladder. Reversible fans installed in the stack allow cooler basement air to be pulled up into the upper rooms. Warm air can be blown/pulled down the stack to the basement. The clothes dryers, bathroom blowers, gas water heaters and cooking ranges are vented into their own stacks. The utility room also has the main house washer, dryer and utility tub, a toilet and a corner shower. The family room has two sets of double doors, the right most one will lead out into a heated greenhouse that is earth sheltered on the north by the slope. This greenhouse is for the orchids and the koi and goldfish ponds. It is divided into one that is warmer, the further one is cooler. The back of the wall has black water filled barrels for heat regulation and an unvented gas stove for heating. When the greenhouse warms up during the day, the heat will be blown into the house.

The first floor plan seen 3D from above.